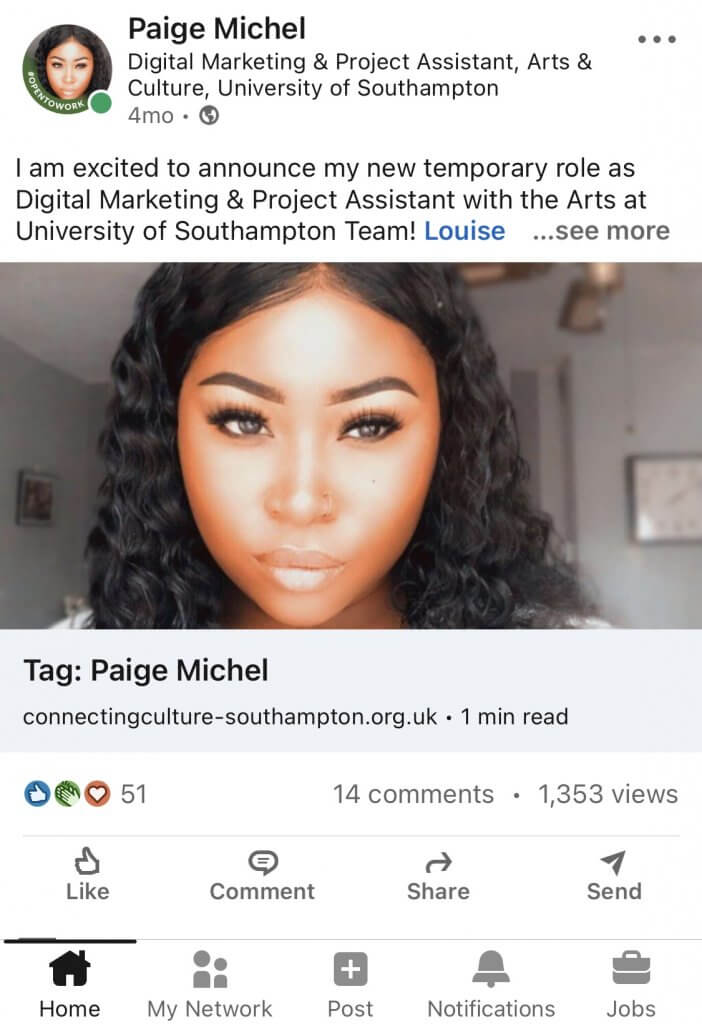 By Paige Michel Strachan
Hey everyone! It's me again. My temporary role as Digital Marketing and Project Assistant with the Arts at University of Southampton team has unfortunately come to an end (how time flies when you're having fun!). A sad but simultaneously sweet occasion. I have thoroughly enjoyed doing communications for the Connecting Culture project and Southampton Cultural Educational Partnership (SCEP). Promoting access to arts and creativity for children and young people in Southampton has been an invaluable opportunity that has helped me grow personally and professionally.
The reason I loved doing this role is because it encompasses all the 5 C's – communications, content, creativity, community and culture!
I have achieved so much as Digital Marketing and Project Assistant in a short space of time. On reflection, I can proudly say I have smashed all my SMART goals, and more.
Here are the professional goals I have achieved:
I have researched and proposed social media approaches to directly engage young people.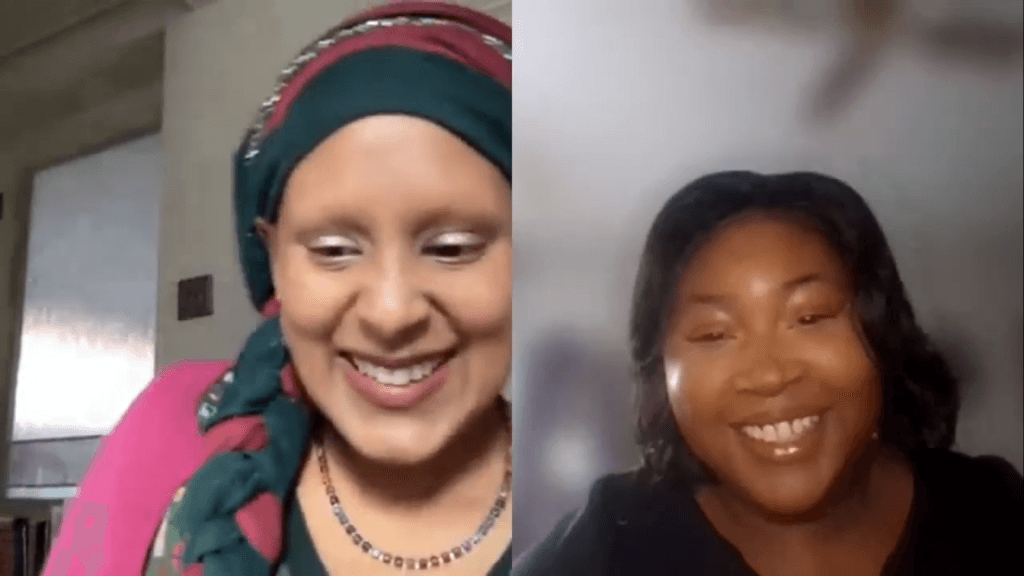 I have been sharing blog pieces on Twitter, Facebook and Linked In, ensuring I use relevant pictures and tags. Examples of this are my piece Introducing Connecting Culture and the Artist Facilitator Interviews I conducted. I must say it was incredible interviewing Southampton dancer Natalie Watson, visual artist Faye Phillips and writer Nazneen Ahmed. I've also been tweeting out some inspirational quotes of theirs from our conversations, which have gone down a treat on Southampton Twitter!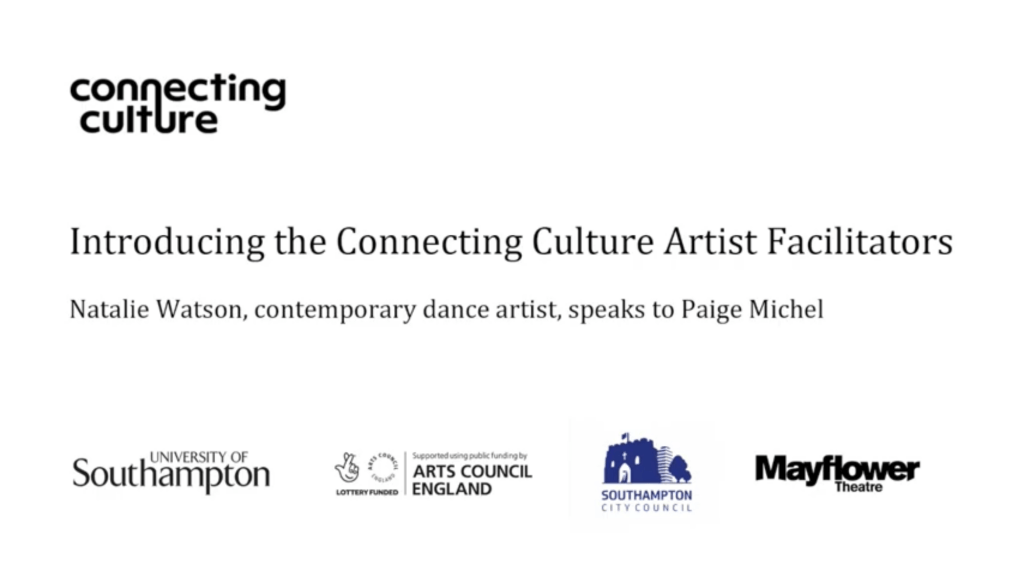 I have also attended and contributed to the SCEP and Connecting Culture team meetings. This increased my general knowledge of the projects and inspired ideas for communications plans. It also helped me build my confidence and develop professional networks.
I was not only working towards my professional goals. I decided to set myself some personal goals too. Here are some of my own goals that I am delighted to say I have accomplished:
Thanks to working in this role, I now have a good understanding of how to use the WordPress content management system (CMS). I have been uploading blogs, adding media, and publishing them. I have also been creating personalised Bitly links for sharing purposes and checking insights. I was first introduced to Bitly whilst undertaking training with the Media Trust: Creativity Works programme. I'm glad I have been putting my skills to use!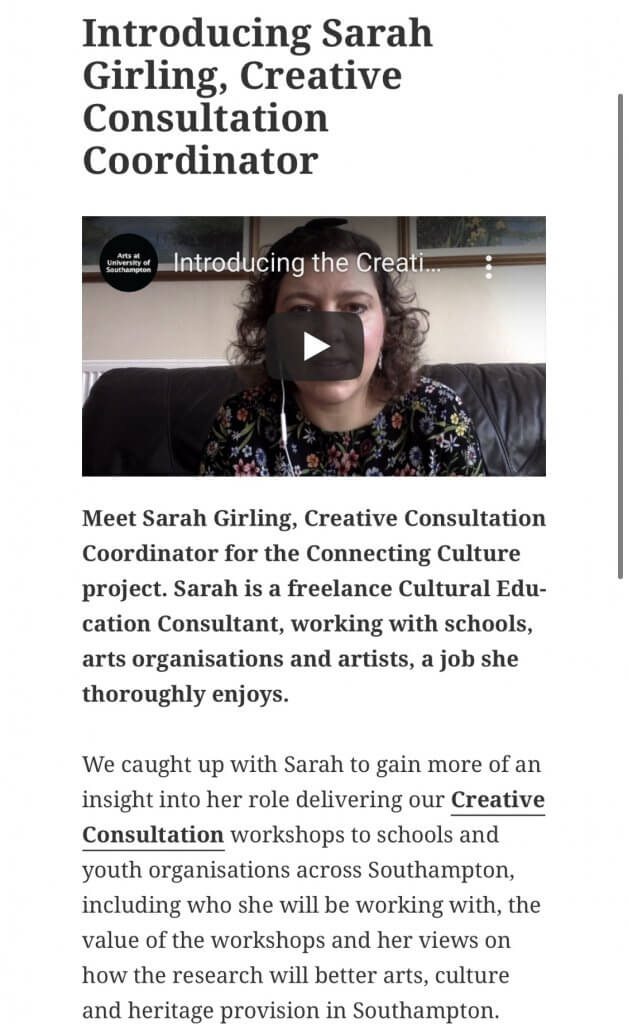 I asked Jen if she could show me how she puts the University's Arts and Culture newsletter together. She created a personalised video of her using MailChimp, kindly explaining all the steps (like a YouTube tutorial)!
I completed Continual Professional Development (CPD) training which was very thought-provoking and insightful. The first with Dr Ronda Gowland-Pryde, Lead Researcher on the Connecting Culture project. Her interactive workshop explored Epiphanies. The second session was led by Dr Pathik Pathak, Director of Social Impact Lab at University of Southampton, on Social Impact Frameworks. Training was one of the many perks of working in this role!
I was very excited to interview young people about the impact of arts and culture on their lives. I spoke with members of The Nuffield Collective – Fleur Moore, Henry Roberts and Jess Rowlands – alongside Liam Gifford – Young People's Producer at Play to the Crowd – about their self-initiated theatre project.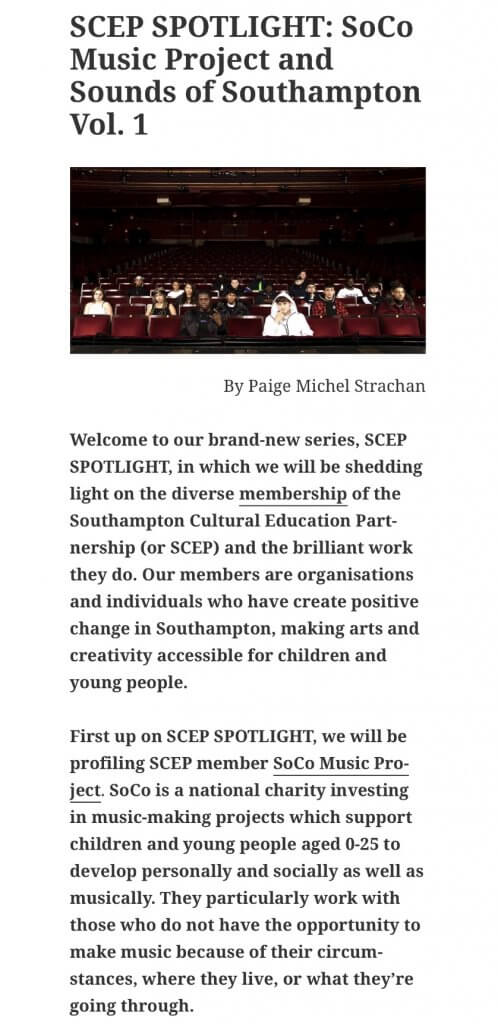 I had the opportunity to interview a variety of established arts professionals too. I spoke with Matt Salvage from SoCo Music Project, asking him juicy questions about Sounds of Southampton Vol. 1. What an epic project! I knew I had to write about it highlighting all the funders, organisations, and individuals that made it possible. A track on the album that received huge success is Can't Relate by Tyrone & Warbz. I absolutely love that tune! Other favourites include Liar Liar by Charmz14, LV by Lash & RB, X2 by Lookie & S.4.GE and Any Way by Reece Brown. There is one song in particular that stands out to me: La Luna by Maria Cathalina & AK. It sounds like an amalgamation of Afroswing, Reggaeton and RnB. The originality unmatched. In future, I hope to see more varied genres of music coming from Southampton.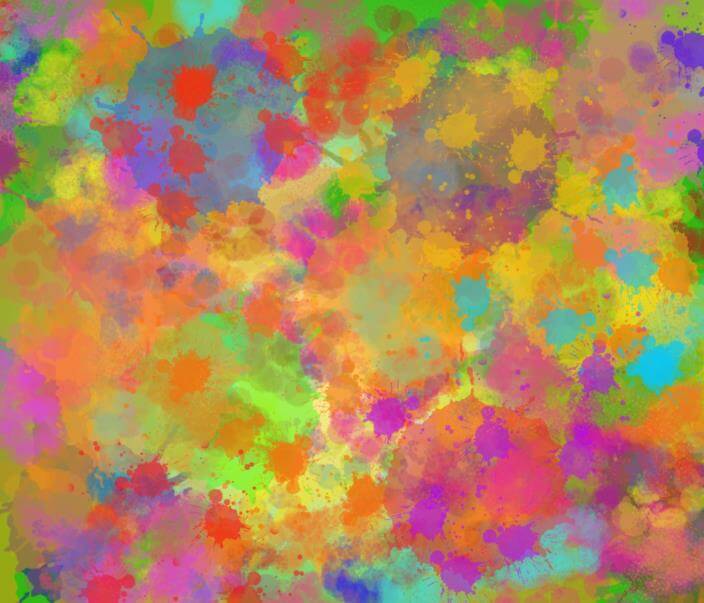 Whilst working in my role as Digital Marketing and Project Assistant, I attained other things too:
I was featured as an upcoming artist in the Mayors Fund for London and The Haven's Wilderness Project exhibition. My artwork was called Mawon, Savoy, Fawouch, translating to 'Wild, Wild, Wild' in St. Lucian patois. It reflects my experience of lockdown, often daydreaming happy thoughts of the past, present and future – listening to Soca music, having fun at j'ouvert, and feeling free. This piece is the epitome of beauty, arts, and culture. Good vibes only!
I researched, wrote and asked questions to digital marketers working in the cultural sector in Southampton, to further help my professional development. The three Js – Jen Harris (Coordinator with Arts at University of Southampton), Jack Lewis (Digital Marketing Manager at John Hansard Gallery) and Jo Fisher (Corporate Writer and Editor at University of Southampton). I'm definitely trying to be like them! It was incredibly useful hearing about their academic journeys, career paths, and day-to-day job tasks. I am definitely taking their expert advice on board. GOALSSS!
I have developed my Digital Marketing knowledge by attending training sessions each month such as Somerset House's Upgrade Yourself presentations, listening to podcasts each week including Digital Marketing Babes, and completing free short courses such as Linked In Learning's offering of over 300 classes including SEO, copywriting and analytics.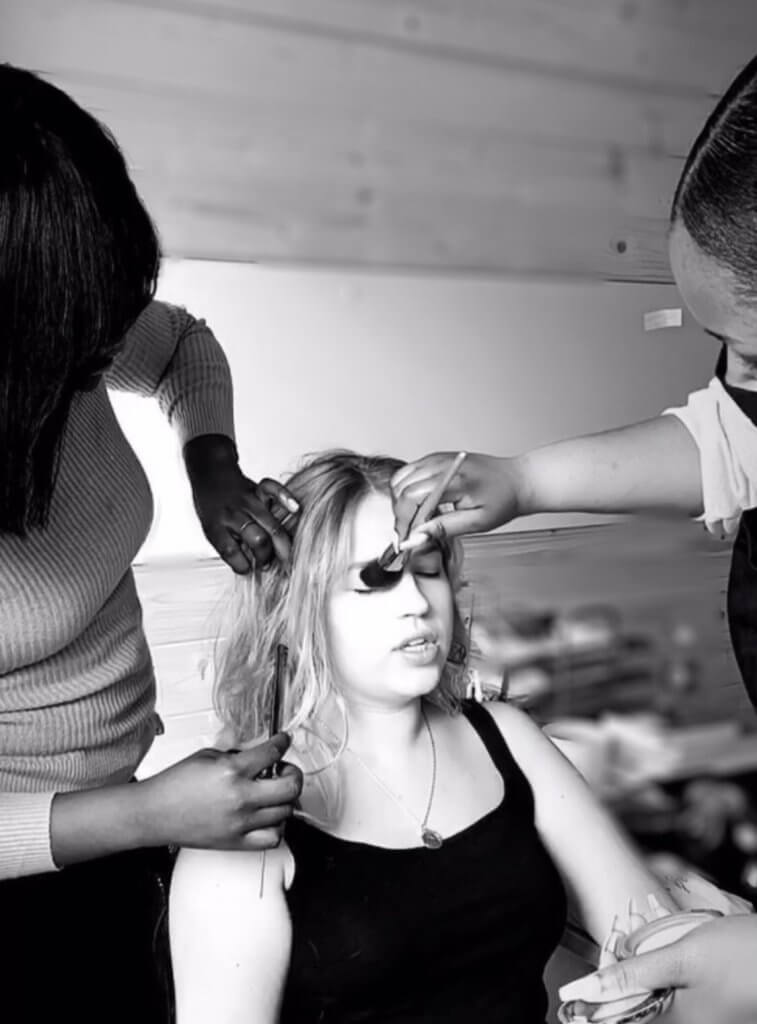 I was honoured to be chosen as Makeup Artist two different projects. The first, Dare to Dream, was a LAMBB production in collaboration with Livity UK, Link Up TV and Originals YouTube starring FR Joey. It explored societal systems that fail black men through a musically charged dialogue between the rising artist and a female influence in his life. The second was Save Me, a short film directed by Amani Simpson (founder of Aviard Inspires) and produced by Gaby Lafor (Production Coordinator at ITN Productions). The film is about safeguarding children and young people. It is for Enfield Council and the plan is to show it in schools. Both projects were meaningful with great teams. And, of course, the behind the scenes were lit!
I signed up to and attended Arts Award training provided by Artswork to understand the different components, what it entails and benefits. This information aided my copywriting tasks for the projects I've been focusing on.
I attended a meeting involving the heads of the University of Southampton Student's Union Media Societies. It was great hearing their general updates, communications strategies and plans for the future. Contributions from Morgan McMillian, Editor in Chief at The Edge Magazine and Will Hough, Station Manager at Surge Radio particularly stood out to me.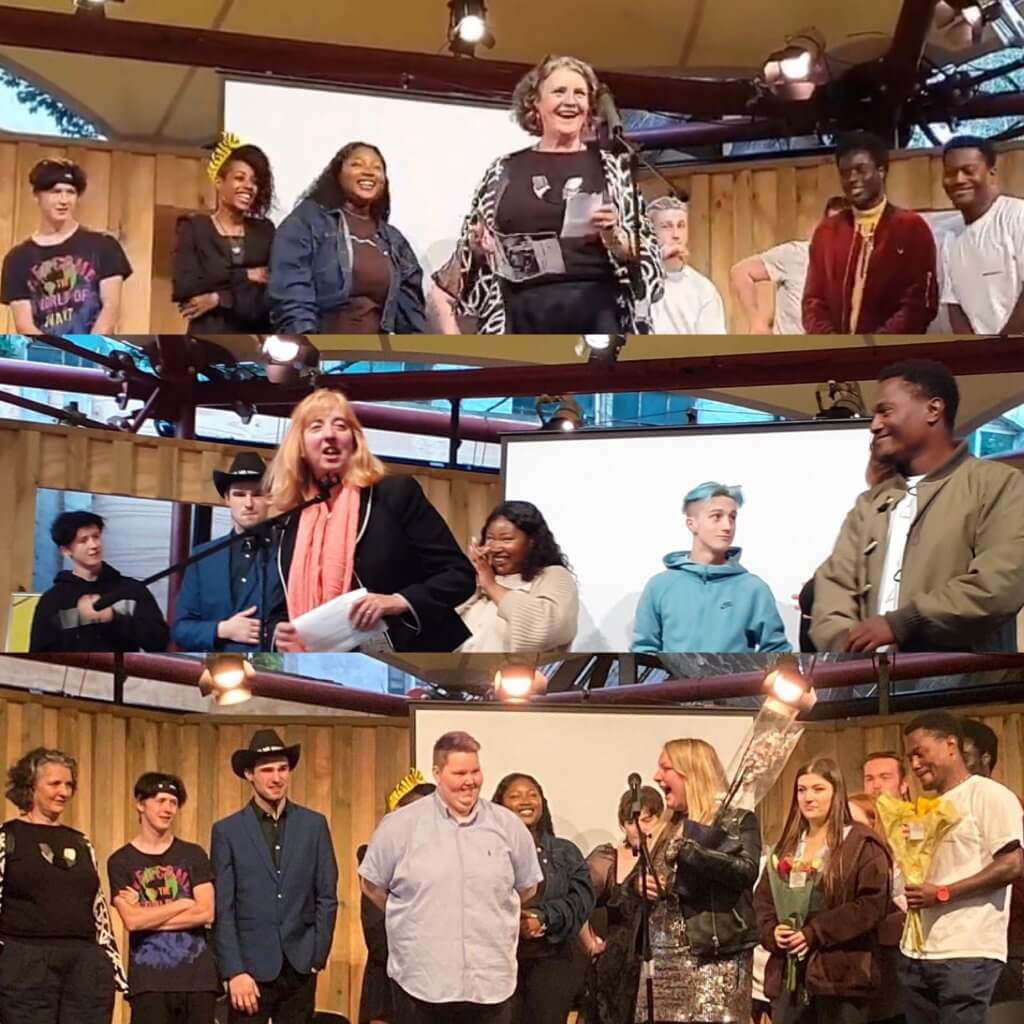 I was scrolling on social media as you do (especially if you want to work in marketing), and I came across a post that Sarah Girling – my Connecting Culture colleague – had shared on her LinkedIn. It was by the children's charity Coram who were looking for young people in care or who are care-experienced for a spoken word project called What's in a Name?: Own Your Story. I applied (feel the fear, and do it anyway I told myself) and I was one of the young people chosen! I have attended writing workshops by Ric Flo (Rapper and Foster Care Advocate), met with an Archivist from the Foundling Hospital called Jo, recorded my spoken word piece in Dalston's Pirate recording studio and participated in the final performance at the Arcola Theatre in Summer. It's great I get to work with such passionate and talented young people with similar experiences to myself. We're like a little care-experienced community, a kind of foster family. Awww.
I have recently undertaken training to become a Volunteer Visitor Host at Tate Modern. I just love being immersed in creative cultural spaces and around people who enjoy arts and culture as much as I do. Catch me at Tate this Summer!
Last, but certainly not least, I am working towards returning to University of Southampton this upcoming academic year to complete my History degree. If you read my introductory blog, you'd see this is something I really really hoped for, so I'm superrr happy! I can't wait to be a student again. Bring it on!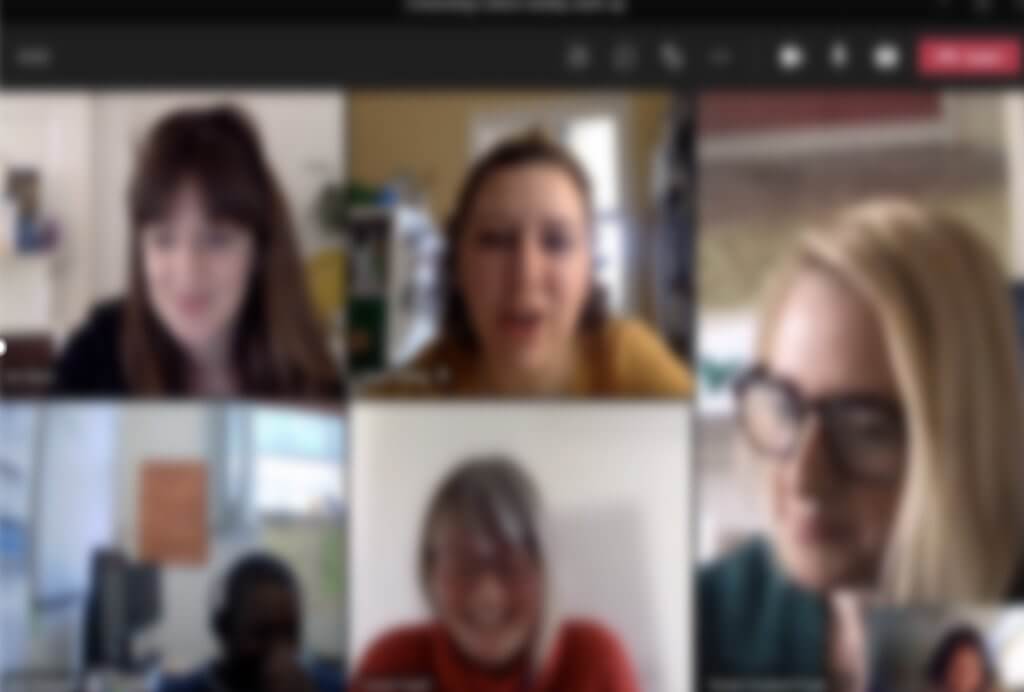 It's fair to say I learned so much in the five months I spent in this role. Honestly, about 70% of the tasks set were completely new to me. I was able to learn on the job, upskill and complete the briefs successfully due to the continued support I received. I'm pleased I have had the opportunity to work really closely with Jen Harris, Coordinator with the Arts at University of Southampton team. She essentially has been my mentor – teaching, guiding and advising me through my role. She's so hardworking! Her willingness to go the extra mile hasn't gone unnoticed. I really will miss our morning catch ups and sending memes and gifs to each other on Teams, lol!
The people you work with really make the job worthwhile. My colleagues Louise, Jen, Larry, Sarah, and Ronda have all been amazing. I received a cute card and a big bouquet of flowers from the team on my last day, and I cried tears of joy – such a thoughtful gift. I was also sent a special email containing a Pretty Little Thing (PLT) gift card. (YAYYY! Hot girl summer outfits pending). THANK YOU! This is an experience I'll cherish forever. An experience I'll never forget!
Please feel free to connect with me on Twitter, @itspaigemichel, or on Linked In. Remember: your network is your net worth!